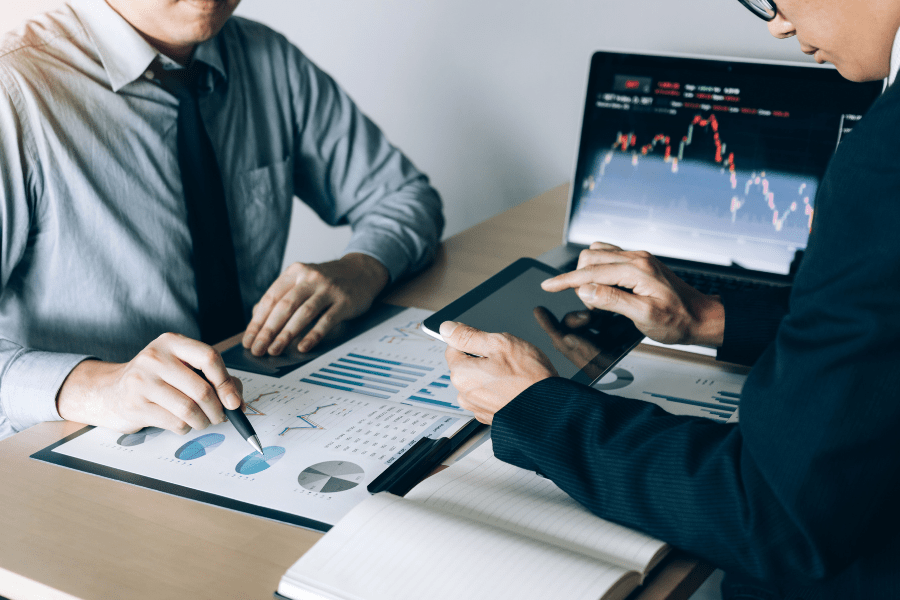 Finding investors for your business can be a daunting task. From meeting with potential backers, to preparing pitch decks and expanding your professional network, there is a lot to consider.
Whether you're in the early stages of a new business, you've hit a plateau in growth, or you're seeking outside investment opportunities that can help you take things to the next level, finding the right type of investor for your business is essential.
In this article, we'll look at how you can find investors for your business, the different types of business investors, and the steps that you need to take to secure the right investment for your business.
Why investors are important
The notion of investors and equity financing has evolved rapidly over the last decade. Due in no small part to the mainstream fascination with 'unicorns' and start-up culture in the tech bubble of Silicon Valley, more business owners are now looking to outside investment to facilitate growth – and it's not just tech start-ups.
Investors play a critical role in funding business growth by providing the capital and professional resources that help them to expand at a faster pace that they would be able to with their own capital. Without access to capital, it can be difficult for businesses to hire employees, purchase critical equipment and inventory, and invest in the appropriate marketing channels.
In addition to providing capital, investors can also bring valuable industry-experience, connections, and professional resources to the table. For many businesses, access to new customers and partners, as well as the ability to connect with key industry players and influencers through investors is an invaluable piece in the growth puzzle.
Identifying your target investors
If you're looking to go down the path of seeking investment for your business or start-up, then it's important to determine the types of investors that you are looking to attract. Businesses and entrepreneurs should remember that their business is not going to appeal to all types of investors, which is why it's important to identify their target audience for investment.
Different types of investors
Angel Investors
Angel investors are high-net worth individuals that invest in small companies and start-ups in exchange for equity in the company. According to the latest data from the Center for Venture Research at the University of New Hampshire, angel investments in 2020 in the United States totalled $25.3 billion across 64,480 entrepreneurial ventures.
Unlike a venture capital firm that relies on an investment fund to make business investments, angel investors make business investments from their own hip pocket. When compared to venture capital firms, angel investors are often more patient with entrepreneurs and open to taking a long-term approach to investments. However, like VC firms, angel investors want to see a clear exit strategy and path to profitability for their investments. 
Venture capital investors
Venture capital firms are investment companies that provide funding to start-up business that are demined to have ahigh growth potential. In exchange for their investment, VC firms will typically take an equity ownership in the company.
Venture capital firms will typically invest in early-stage companies that are not profitable but are instead buoyed by their potential to disrupt an industry and become profitable in a relatively short space of time.
According to the latest data from the National Venture Capital Association (NVCA), venture capital investments reached a staggering $329.9 billion across 17,054 deals in 2021 in the United States – roughly double the previous high that was recorded in 2020.
Some of the types of businesses that venture capital investors may choose to invest in include:
Tech companies
Software companies
Internet start-ups
Energy and clean tech companies
E-commerce
Agriculture and food
In addition to capital, VC firms also provide valuable resources such as mentorship, guidance, and professional networking that can help to fast-track growth.
Private equity firms
Private equity firms will typically invest in privately owned companies with a proven track record of success with the potential for significant growth. While some mistakenly use venture capital and private equity as interchangeable terms for private investment, there are some key differences that separate them.
Unlike venture capital firms that take a high-risk, high-reward approach to start-up investments, private equity firms tend to opt for 'safer' businesses with a proven market with the potential for significant growth with the right investment.
Some of the types of businesses that private equity firms invest in include:
Software and technology companies
E-commerce, retail, and consumer goods
Manufacturing and industrial
Healthcare and Pharma companies
Just like venture capital firms that typically have a target niche, PE firms invest in sectors where they have the knowledge and professional resources to help their portfolio companies to scale. Private equity firms will usually take a controlling stake in a company to make them more valuable before selling them for a profit at a later date.

Crowdfunding 
Crowdfunding has become an increasingly popular funding channel for small businesses and start-ups that are looking to gain a loyal throng of supporters while raising early-stage capital. The latest data from Statista shows that the crowdfunding segment is projected to reach $1.1 billion USD in 2023 and continue to grow at a rate of 2.46% over the next five years.
The emergence of crowdfunding sites Kickstarter and Indiegogo mean that new businesses can now circumnavigate the traditional route of heading to the bank for a business loan. Crowdfunding will typically be structured in one of three different ways:
Rewards-based: Business offer rewards such as product discounts or early access to products when crowdfunding investors back them at an early stage.
Equity-based: When businesses offer equity in the company in exchange for financial backing.
Debt based: Businesses borrow money from a crowd of investors and then pay back the money with interest when the business becomes profitable.
Family and friends
As the name would suggest, family and friends' investors are those that invest money into a business that is started by someone that they share a personal connection with.
According to a recent study by Clutch which interviewed 501 business founders in the United States, almost one in four (22%) of all founders took a loan or investment from their family or friends in the first 3-months of starting a business.
These types of investments are usually motivated by the desired to support a family member or friend and their entrepreneurial vision, rather than with the sole goal of financial gain.
Institutional investors
Institutional investors accrue the funds of investors and invest those funds on behalf of their members. Institutional investors invest in a variety of different assets including stocks, real estate, bonds, and private companies.
Some of the private companies that they might invest in include:
Banking companies
Insurance companies
Tech start-ups
Early-stage companies
Institutional investors may also invest directly in companies through the secondary purchase of shares or by participating in private funding rounds.
How to connect with potential investors
Once you've determined the type of investor that you are looking to attract, the next step is to put your business in front of those investors. Depending on the type of investor (refer to the list above) your method for meeting investors will be different.
Some of the ways that businesses can connect with potential investors include:
Networking events: conferences, trade shows, and other events that present opportunities to mingle with potential investors and discuss your business.
Online: Websites like Gust and AngelList have been specifically setup to allow business to connect with angel investors and venture capitalists. Outside of these platforms, professional networking sites like LinkedIn can open new doors and facilitate encounters with the right kinds of investors for your business.
Reach out to VC/PE firms in your area: Most Venture Capital and Private Equity firms in your area will have a dedicated section on their website where businesses can pitch their business or organise a meeting. Google "Private Equity/Venture Capital + your location" to find local companies that may be interested in investing.
Crowdfunding platforms: If crowdfunding sounds like the right investment channel for your business, then platforms like Kickstarter and Indiegogo provide an easy-to-navigate platform that allows businesses to pitch themselves to the masses.
Referrals: Word of mouth referrals from your network can be a powerful way to get your foot in the door with investors. Reach out to entrepreneurs or businesses in your network to ask for referrals or recommendations on securing funding.
What an investor wants to know before investing
When it comes to private investing, investors will want to do their due diligence before putting their money on the line. Investors want to know key information about the company that they are investing in, the terms of their investment, future plans of the business.
Pertinent information that investors will want to know before investing includes:
Financial performance: A complete rundown on past financial performance, profit, growth, and operating expenses.
Business plan: A clear business plan helps investors to not only understand your business, but it also shows that you have taken the time to assess any obstacles that the business may face. Even for mature companies with a proven track record of profit, a business plan is an essential piece of information that potential investors will use to make decisions about funding and supporting your company.
Unique selling proposition (USP): When it comes to business, your USP is your competitive edge in the market. Investors will want to know the unique value proposition of your product offering and where it sits in the market.
Company management profiles: Investing in a business means investing in their management team, as such, investors want to know more about the management team and their track record for success.
How you plan to spend their investment: Depending on the nature of the investment, investors will want to know how their money is being spent and when they can expect a return.
Investment structure: Understanding their rights and obligations, what happens if there is a change in leadership, and how they can cash out (if required) are all important considerations for investors.
Exit strategy: Every business owner needs an exit strategy, and the same goes for investors. They will want to know what their exit strategy looks like and when they can expect to recoup their investment.
In addition to all of these points, investors will also want to know about the company's valuation as well as projected return on investment.
Finding the right investor for your business
Connecting with investors that share your vision can be a challenging task, but, with a clear approach and understanding of what your ideal investor looks like, it can be done. By identifying your funding requirements and creating an air-tight case for investment with a compelling pitch, you can match your business with the right investor.